Divorce Mediation in Tennessee Answers to FAQs
---
Tennessee divorce mediation answers to frequently asked questions.
I've heard about mediation in Tennessee divorce cases, but I've also heard that the less sophisticated spouse is more likely to be taken advantage of.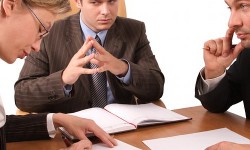 Being taken advantage of is a much more important concern if you are not represented.  If you have a lawyer, it is unlikely you will be taken advantage of.  While it is common for one spouse to be perceived as "weaker," the mediation process is designed to prevent a stronger spouse from taking advantage of the weaker one. Your lawyer can help advise you through the mediation process. Also, an ethical and experienced mediator will take the balance of power into account and even reject cases if there is a likelihood of fraud or unfair dealing.
I might consider mediation for my Tennessee divorce case, but will I have to waive my ability to use a lawyer?
Absolutely not! Ethical Tennessee mediators encourage clients to have representation at all stages of the mediation process. If a mediator suggests otherwise, don't use that mediator. Any mediator that doesn't strongly advise that both parties are represented during the mediation process shouldn't be trusted.
But if lawyers get involved, why bother with mediation?
Your experienced Tennessee family lawyer plays a very important role in the mediation process. Your lawyer advises you to make sure that both the process and agreement are fair, just, and reasonable and include all of the necessary terms and requirements.
Mediators aren't supposed to offer any advice as to whether the terms of any agreement are fair or reasonable, or comment on what a particular judge might order in the event of a trial. Experienced family lawyers can make sure your settlement agreement contains everything it should and doesn't omit very important legal conditions and terms.
Well, this all sounds reasonable, but my spouse would never agree to mediation. Can I force him?
In Tennessee divorces, yes and no. If children are involved, mediation is mandatory. Even if there are no children involved, most judges are ordering both parties to mediate, even over a spouse's objection. However, the mediation process is 100% voluntary. This is understandably confusing. If you're ordered to mediate, it doesn't mean you're ordered to reach an agreement. But you have to try.  The judge will expect you to show up and enter the mediation process in good faith.
Why should I have an attorney during the Tennessee mediation process?
Three of the primary functions of attorneys are to investigate, negotiate, and eliminate variables. As you can imagine, negotiating a divorce settlement can be an emotional and legal minefield.  Your spouse's lawywer may use unfair negotiating tactics and strategies. Having your own attorney explain to you in clear, concise, and simple terms that an opposing attorney may be "testing the waters" with an overly aggressive negotiating position — and advise you on the appropriate responses — can be a valuable service.
What is mediation anyway?
InTennessee, mediation is a form of "Alternative Dispute Resolution." Alternative Dispute Resolution is a general term that describes new procedures used by the courts to facilitate settlements. The theory is that many cases that would otherwise result in trial can be resolved sooner if there's a formal process by which the parties meet to discuss the issues in the case. The process is controlled by Supreme Court of Tennessee Rule 31.
Below are a few selected provisions from Tennessee Supreme Court Rule 31:
Section 1. Application
Pursuant to the provisions of this Rule, a court may order the parties to an eligible civil action to participate in an alternative dispute resolution proceeding in accordance with this Rule.
Section 2. Definitions
(c) "Mediation" is an informal process in which a neutral person, called a mediator, conducts discussions among the disputing parties designed to enable them to reach a mutually acceptable agreement among themselves on all or any part of the issues in dispute.
(e) "Non-binding arbitration" is a process in which a neutral person or a panel, called an arbitrator or an arbitration panel, considers the facts and arguments presented by the parties and renders a decision which is non-binding.
(f) "Case evaluation" is a process in which a neutral person or a panel, called an evaluator or evaluation panel, after receiving brief presentations by the parties summarizing their positions, identifies the central issues in dispute as well as areas of agreement, provides the parties with an assessment of the relative strengths and weaknesses of their case, and may offer a valuation of the case.
Section 3. Initiation
Upon motion of either party, or upon its own motion, a court, by order of reference, may order the parties to an eligible civil action to participate in a judicial settlement conference, mediation, or case evaluation.
Section 4. Evidence
Evidence of conduct or statements made in the course of court-ordered alternative dispute resolution proceedings shall be inadmissible in court to the same extent as conduct or statements are inadmissible under Tennessee Rules of Evidence 408.
Section 6. Confidentiality
A Rule 31 dispute resolution neutral or settlement judge shall preserve and maintain the confidentiality of all alternative dispute resolution proceedings except where required by law to disclose the information.
Section 9. Participation of Attorneys
Attorneys may appear with clients during alternative dispute resolution proceedings.
Appendix A. Standards Of Professional Conduct For Rule 31 Mediators
(4) The Mediation Process.

(a) Orientation Session. On commencement of the mediation session, a mediator shall inform all parties that the process is consensual in nature, that the mediator is an impartial facilitator, and that the mediator may not impose or force any settlement on the parties.
(b) Continuation of Mediation. A mediator shall not unnecessarily or inappropriately prolong a mediation session if it becomes apparent that the case is unsuitable for mediation or if one or more of the parties is unwilling or unable to participate in the mediation process in a meaningful manner.

(5) Self-Determination.

(a) Parties' Right to Decide. A mediator shall assist the parties in reaching an informed and voluntary settlement. Decisions are to be made voluntarily by the parties themselves.
(b) Prohibition of Mediator Coercion. A mediator shall not coerce or unfairly influence a party into a settlement agreement and shall not make substantive decisions for any party to a mediation process.
(c) Prohibition of Misrepresentation. A mediator shall not intentionally nor knowingly misrepresent material facts or circumstances in the course of conducting a mediation.
(d) A Balanced Process. A mediator shall promote a balanced process and shall encourage the parties to conduct the mediation deliberations in a nonadversarial manner.
(e) Mutual Respect. A mediator shall promote mutual respect among the parties throughout the mediation process.

(8) Professional Advice.

(a) Generally. A mediator shall not provide information the mediator is not qualified by training or experience to provide.
(b) Independent Legal Advice. When a mediator believes a party does not understand or appreciate how an agreement may adversely affect legal rights or obligations, the mediator shall advise the participants to seek independent legal counsel.
(d) Personal Opinion. While a mediator may point out possible outcomes of the case, a mediator should not offer a firm opinion as to how the court in which the case has been filed will resolve the dispute.
Resources, References and More: